Cherry English
Cherry English: "Daddy Pascal's Fucking My Bottom!"
She's 22. Honest, guv. She's happy for you to imagine she's any age you want, but yep, we've got her ID and Cherry English is 22. Cherry's real name isn't Cherry of course. It's R****. R**** ! Pink Princess, Claire-Louise??) works as a porn performer and escort and during these times she performs as Cherry, a sweet little poppet of undefined age who loves it rough and getting fucked in her bottom. If the only thing you can see of her as you read this is to watch her trailer, and you haven't already, then go do it now. It's not just the looks, it's just as much the performance. She's seductive and beguiling and pitch-fucking-perfect. Call it method acting, call it performance art, call it just plain frigging art, this evil strumpet's going to soil you so bad you're going to be scrubbing the filth out for a week.
All the time she was with us she was like this, like you see her in the vids. We opened the door to greet her and it was like a rainbow bounced into the room. After 20 seconds me and P just looked at each other with open mouths.
R**** has created a character, an XXX-rated cartoon star made flesh, a product, a service, whose engineering and performance is as goddamn perfect as the MacBook Pro I'm typing on right now.
Dressedin a pink undies set, Pascal has fun with her as she is so small and submissive. With her hair tied her lips have difficulty getting around his cock, but she manages it and told to put her arms behind her back he wastes no time in holding her face and ramming the whole of his cock down her throat.
Dribbling and gagging, but smiling when possible, she lies on him his cock in her face as she swallows his cock down to his balls, making her gag and puke.
There a lovely scene of Pascal sitting on the settee, Cherry on her knees as she slowly sticks her tongue into his ass and fucks it with her tongue. After that he is very horny and so pulls her down onto the settee and doggy fucks her, opening her ass cheeks he then sticks two fingers deep into her ass as he carries on doggy fucking her.
Then it's time for some anal sex, poor Cherry isn't impressed initially as she is dragged over the back of the settee and ass fucked real hard. But she soon relaxes to it, and that smile returns. Giving her a toy, Pascal lays her down on the settee andass fucks her in the missionary position while Cherry gets herself off with the toy on her pussy.
The vibrating toy is probably the reason Pascal needs to cum now and back on her knees and some more extreme deep throating, he pulls his cock out of her mouth as we watch his cum spurt out and go deep into Cherry's open mouth. Showing us her filled mouth before a gulp and a smaile, her mouth is empty.
Just a stamp on her chest to say that she was now one of Pascalcssubsluts and an exciting time for all was had.
File Size :414 MB
Resolution :720 x 400 MPEG-4
Duration :00:51:06
Thumbnails :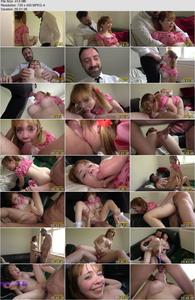 DOWNLOAD :
https://fboom.me/file/4d5e182c6863f/PascalsSubSluts._Cherry.English.mp4