Chloe Foster – Dad Has To Keep His Promise Now
Mom and Dad have been so annoying lately! They promised I would get a car for my 18th birthday, but they still haven't bought it for me! I totally deserve this car – I've kept my grades up in school, I haven't missed curfew, my room stays perfectly clean… What more do they want from me??
I try to explain to Mom over the phone but she just brushed me off and reminded me to give Dad his meds. It's so lame that I'm the only one out of all my friends that doesn't have a car to drive.. I know I shouldn't bother Dad about this, he's been really busy recently…
When it was time for me to give Dad his meds, I decided that he would get a little dose of something extra instead.. I slip the pill into his cup and make him swallow every drop of it! Won't be long before the effects start to kick in..
After a while, I walk back into the living room in my panties and sit directly across from Dad
Hey sweetie, why aren't you wearing any pants?
This is more comfortable for me I guess.. Is it bothering you?
No of course not, I've seen you in underwear plenty of times
-Dad has no idea I switched out his medicine! I pretend like I'm doing homework on the couch, but I'm really teasing my Dad from across the room. My legs slowly start to spread open and I catch him staring-
Is everything ok?
Yeah everything is ok, sorry sweetie..
Are you sure?
Well I have been stressed out with work. I went to the gym earlier to relieve some tension.
Is there something I can do? You must be sore from working out, maybe I can give you a massage!
Sure that'd be nice
-As I rub down my father's legs, I see that the viagra I gave him earlier is finally working-
Oh um.. What's going on down there?
Omg I had no idea it was like that!
That's ok Dad, do you want me to help you out with that?
No honey, this isn't right. I don't know why I'm hard right now, this is really inappropriate!
Come on, I can make you feel good!
Ahhh… your mother would not be happy about this!!
I promise Daddy, she'll never find out!
Whether he wants it or not, the only way to get rid of this erection is to get him to cum! This is my chance to take control of my father and make sure I fuck him really good! I pull out his rock hard cock and wrap my lips around the tip.. Slowly sucking and stroking him off. I know just a blowjob won't get the job done, so I crawl on top of my dad and slide his throbbing boner in me!
Watch me ride my Dad's cock and spread my 18 year old pussy for him to experience! Right when he's about to cum, I drop to my knees and let him shoot his large thick creamy load into my mouth!
Soo.. you're going to get me that car, right?
Yes sweetie, I'll get you whatever car you want.. Now go get cleaned up before your mother gets home!
Sex acts/tags: chloe foster, father daughter, incest, taboo, hardcore, 1on1, indoor, blonde, natural tits, small tits, long hair, blowjob, deepthroat, gagging, smooth shaved pussy, cowgirl, reverse cowgirl, missionary, cumshot, cum in mouth
File Size :639 MB
Resolution :1280 x 720 MPEG-4
Duration :00:11:19
Thumbnails :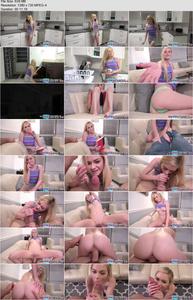 DOWNLOAD :
https://fboom.me/file/cf1b9178b1736/Chloe_Foster_-_Dad_Has_To_Keep_His_Promise_Now.mp4