Cory Chase – Cristi Ann in Family Vacation
Scene One: Daughter Voyeur
Have you seen your mother? Dad asks his daughter Cristi. He's dressed in only a towel waiting for his wife to get back. Cristi looks at him and gets turned on by the older man, making a decision. I'm going to fuck him She says when he leaves.
Cristi hears her mom in the other room being fucked and can't help herself but peek inside. Cory is blindfolded on her back while her husband pumps into her. Cristi slowly and quietly enters the room. Her dad shakes his head at her to leave but Cristi isn't going anywhere. She teases him by touching Cory, while he fucks, squeezing and licking Cory's breast's. Cory moans I want to swallow your cum baby and gets to her knees. Cristi watches as her dad cums into her mom's mouth, leaving before Cory knows what happened.
Scene Two: Gone for an hour
Cory ties up her shoes to go to the gym, when Cristi asks how long she will be gone. About an hour Cory replies and Cristi gets a devious look on her face. She finds her dad just out of the shower checking emails on his phone. Mom will be gone for an hour, and I think we really should fuck dad She says kissing him. No He tells her trying to push her away.
She keeps kissing him saying Come on dad, I can't stop thinking of your cock. She whispers. Don't worry it will be our little secret. She slides her dad's dick into her mouth and sucks him for all she's worth. He plays with her large breasts as she slides her hot wet mouth all over him.
Taking off her shoes and socks he kisses his daughter's cute little feet and has her slide them up and down his shaft. Cristi giggles. He licks his daughter's pussy and she slides around him 69ing his large cock. So wet and horny she moans, sliding him inside of her and ridding her dad. Fucking him is better than she ever thought it would be.
Scene Three: First ass fuck
He pushes her down to the bed, and she trembles and moans. Oh fuck, Oh daddy, I love it daddy She screams as he plows into her. I can't believe you're finally fucking me, I always wanted this She tells him.
With his cock wet and hard he pushes it into her tight ass. She slowly lets it inside of her, her daddy taking her sweet ass. The pain and pleasure of it is too much for her. I can't believe your fucking my ass daddy. I've never done this before, I love it She whispers to him. Taking his cock out of his daughter's ass he makes her suck him and taste herself. So lost in lust she greedily does as she's told.
He's fantasized about fucking his cute athletic daughter after she comes home from the gym. So he tells her to put her socks and shoes back on to fulfill that fantasy. He thrusts into her ass again banging her hard and fast. I bet mom could never do this she says sucking him clean again.
I love watching it go in She moans as her dad keeps fucking her ass hard into the bed. I want to have your cum She begs him getting to the floor. She's seen girls do this online and wants the feeling of his hot cum to cover her. She opens her mouth and he dumps cum onto her face and tongue. Cristi swallows her daddy's load like a good girl and goes to clean up before mom gets home!
Category: TABOO
Related Categories: TABOO, MILF, ASS TO MOUTH
Keywords: cristi ann, luke longly, taboo, milf, handjob, anal, mom, mommie, daughter, atm, ass to mouth, cory chase
File Size :438mb
Resolution :960x540mp4
Duration :00:37:16
Thumbnails :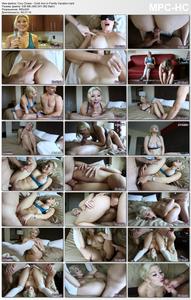 DOWNLOAD <fboom.me> :
http://fboom.me/file/87094cd094f32/Cory_Chase_-_Cristi_Ann_in_Family_Vacation.mp4