Skylar Vox
PLOT: My wife and my daughter just got home over an hour late from being at church! Cory is wearing a blue blouse with a black skirt and Skylar is wearing a white blouse with a black skirt. "Why were you both so late?" I ask them. "We had to help the Priest clean up," they tell me. I am a little skeptical of their story, since I just noticed that neither one of them is wearing any underwear! "It's very strange that you just got home from church and neither one of you has any underwear on!" I exclaim. My daughter confesses to me that the priest was looking up their skirts the entire time! "He also has us unbutton our tops… and we aren't allowed to wear bra's to church either!"my wife admits. I am really confused as to what kind of church these two went to this morning! They both unbutton their shirts in front of me, exposing their big tits. My wife sits down on the chair and she spreads her legs while my daughter starts to lick my wife's pussy. "This is what the priest tells us to do in front of him!" they tell me. I am truly shocked to find this out…
Scene Two: Best Way Up Is Down On Your Knees
Skylar gets down on her knees and she goes back and forth between licking her mom's pussy and sucking my cock. "Let's take Skylar's shirt off!" I tell my wife. Skylar takes my cock and she puts it in between her big, natural tits. She titty fuck's my cock while her mother gets down on her knees next to her. Skylar starts to suck my cock in the doggy style position while her mother eats her pussy out from behind. I tell my wife to take her shirt off as well, and then she goes back to eating out Skylar's pussy and ass. "You two are certainly doing the Lord's work!" I tell them both. "So, what else does the Priest do with you two?" I ask them. "He also sticks his hard cock inside of your daughter's pussy!" Cory exclaims. I want to try that out next…
Scene Three: The Peter In Me
I bend my daughter over the table in the doggy style position, and my wife shoves my cock inside of Skylar's pussy. She looks back at me while she moans. My wife stays down on her knees and she rubs her pussy while she watches me fuck my daughter. I tell Skylar to turn around and face me, so I can watch her big tits bounce up and down. I reach down and grab my daughter's big tits while I fuck her. My wife gets up and she starts to suck on Skylar's nipples while I continue to fuck Skylar's pussy. I tell them to move over to the couch, where we can get more comfortable. Skylar sits down on the couch in the missionary position while I fuck her. Cory goes back to licking Skylar's nipples while she rubs her own clit. Skylar flips over in to the doggy style position so I can fuck her pussy from behind. "We are doing the Lord's work!" Skylar moans. "Are you two ready for my cum?" I ask them. "We are SO ready!" they exclaim. My wife and daughter move their faces next to each other and I jerk my cock off all over both of their faces and in to their mouths.
Scene Four: Alone With Daddy
Skylar calls me in to her bedroom to show me her new outfit. She is wearing a very revealing grey tank top with a tiny pink skirt and thigh high socks. "Mom is busy over at the church today! Do you want to play a game with me? The same game that I play with the Priest…" she asks me. I ask her how to play the game. She tells me that she will try to suck my cock and see how long I can last without cumming. I pull her tank top down, exposing her big tits. "This game will help wash away all of your sins!" she tells me. She bends down and she starts to suck my cock. She tells me that I need to hold all of my cum inside for as long as possible. "I will try! It might not be that easy!" I tell her. She wraps her lips around my cock and she starts to give me a blowjob. After a few minutes, she hops on top of me and she starts to ride my cock with her pussy. She lies down in the missionary position and I grab her big tits while I fuck her pussy. I tell her to get in to the doggy style position next. "I can feel you becoming more pure!" she tells me. When I get close to cumming, I tell her to get down on her knees and open her mouth. I jerk my cock off all over her face and in her mouth. "I am definitely getting in to Heaven now!" I exclaim.
Sex Acts: threesome, 1on1, incest-roleplay, pov, open leg, ffm, cunnilingus, dirty talk, tease, blowjob, handjob, titfuck, standing doggy, missionary, tit sucking, doggy style, open mouth facial, cum in mouth, cum kiss, cowgirl, multiple cumshots.
File Size :1.98 GB
Resolution :1920 x 1080 MPEG-4
Duration :00:46:39
Thumbnails :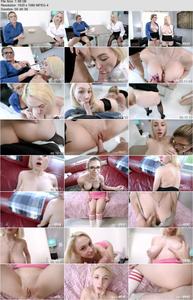 DOWNLOAD :
https://fboom.me/file/7efae8098da3c/Skylar_Vox_barebackstudios.com.mp4