Vanessa Cage in Abolutely Taboo
Scene One: How to Kiss a Girl
The brother is lying in bed. Sister comes in wearing only a really tight tshirt, panties and NO bra. She sits at the end of the bed and asks (in that attitude of half contempt/half love, "What are you doing you little ? Those comic books are going to rot whatever brains you have left." She looks directly into the her brother's eyes for a minute, she lays next to him and asks, "Have you ever kissed a girl?" She pauses and then quickly kisses him on the lips and pulls back. She laughs and says, "Well now you have. Did you like it?" She looks at him, laughs, and says she liked it also. She starts him all around, from the top of his forehead to up and down his throat and chest. She pulls back a little, looks into his eyes and very softly says, "I know something else you will like. Give me your hand." She guides his hand to between her legs and then reaches between his legs and they engage in mutual masturbation while she continues to kiss what would be his throat and chest. They both come together and she pulls her hand from under the covers and licks his cum off her fingers. She laughs, kisses him on what would be his forehead, jumps off the bed, and runs out of the room laughing.
Scene Two: Comfort Food
The brother is walking down the hallway. The sister, wearing only a short robe, pops out of the kitchen, smiles, and curls her finger at her brother for him to follow her into the kitchen. She opens her robe, showing she is wearing nothing underneath, and sits down facing her brother a little less than arm's length away. She asks if he had a good time the other day, when he says, "Yes." she says, "I bet you did, you little ." She then says, "Mom and Dad won't be home for hours. Let me see that little pecker of yours." She stares at his crotch and gets a big smile like he has pulled it out. She says, "You've already got a hardon you little perv. Now look at me while I show you something." She keeps giving a big smile and begins to play with herself while leaning back on the counter. She then pretends to masturbate to orgasm. After she cums, she looks at her brother and asks if he liked that? She then leans forward giving him a blowjob. Afterwards, she leans back and smiles.
Scene Three: Thanks Daddy
Daughter wearing only a bathrobe is standing over the Dad who is in bed with the Mother in a darkened bedroom. The Daughter puts a finger to her lips to indicate silence and walks out of the bed room. Dad follows her to the living room. They both stop, without turning around she lets her robe drop and bends over and grabs her ankles. She says harshly, "Fuck me Daddy, fuck me, fuck me hard, make it hurt, hurt me, fuck me like you hate me." The Daddy moves closer and starts having sex with her. She jerks away turns her head and almost angrily says, "No Daddy, in the ass. Fuck me in the ass." She turns her head back around and the Daddy again moves into position. Daddy has anal sex with her. She grunts very animalistically during this. They both cum, she turns around gives him a little head, stands up, smiles, says, "Thanks Daddy" and cutely walks off.
Category: TABOO
Related Categories: TABOO, DADDY'S GIRL, VIRTUAL SEX, POV SEX Keywords: vanessa cage, taboo, brother, daddy's girl, fucking, daughter, cory chase, anal
File Size :323 mb
Resolution :960x540mp4
Duration :00:27:34
Thumbnails :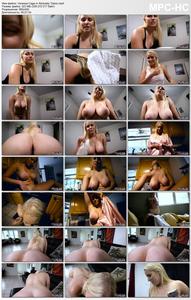 DOWNLOAD <fboom.me> :
http://fboom.me/file/0e193eb2673d6/Vanessa_Cage_in_Abolutely_Taboo.mp4